---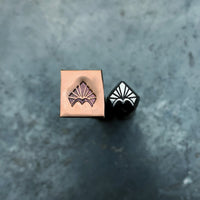 SIZES REFER TO THE MAX DIMENSIONS IN ANY DIRECTION OF THE DESIGN PICTURED.
REQUIRED MATERIAL THICKNESS  18GA AND THICKER ANNEALED METALS
RECOMMENDED HAMMER- STEEL HAMMERS IN THE RANGE OF 2 LBS-3 LBS 

STAMPING SURFACE MUST BE ON A STURDY SURFACE, ANVILS, BENCH BLOCKS, PIECES OF STEEL MUST BE AS HEAVY AS POSSIBLE TO REFLECT AND DISPLACE THE MATERIALS BEING STAMPED. 
***** MANY STAMPS WILL REQUIRE MORE THAN ONE STRIKE******
ALL STAMPS ARE MADE FROM TOOL STEEL, THROUGH HARDENED AND TEMPERED FOR A LONG AND PRODUCTIVE LIFE. ALL STAMPS DESIGNS ARE DESIGNED AND FABRICATED BY SILVER LINING METAL STAMPS. 

***METAL STAMPING IS A EARNED  SKILL THAT IS LEARNED FROM TRIAL AND ERROR, PRACTICE ON COPPER TO LEARN THE CHARACTER OF EACH STAMP AS THEY WILL ALL STAMP DIFFERENTLY*** 

**ALL STAMPS NOT IN STOCK WILL BE MADE TO ORDER 1-2 WEEK LEAD TIME**